How to get rid of dust and allergies forever
Allergies are a common phenomenon that many suffer from. There is no doubt that allergy is a bothersome phenomenon that can easily disrupt the routine of life of the sufferer. One of the most common allergies is dust allergies. In the following article, we will present you with some information about dust allergy and ways to treat it so that you can improve your quality of life if you suffer from this allergy. What is an allergy? Allergy is an overreaction of the immune system to various substances and in this case dust. Naturally, the immune system can identify factors that can harm the body and is a direct response it expels them, but in cases where an allergy develops, the immune system responds to a substance that has no potential threat, including dust.
The house dust mite is a minimal creature that belongs to the group of spiders. It can be found mostly around the house: in places like mattresses, rugs, sofas, books, and the like. House dust mites develop naturally in the place where humans live, they feed on dead skin cells called scales that fall out of the human body and especially love heat and moisture. Dust allergies can cause symptoms such as runny nose accompanied by frequent sneezing, difficulty breathing through the nose, watery and stinging eyes, and sometimes the phenomenon will also be accompanied by itching or eczema. Over 30% of people with rhinitis symptoms will also suffer from asthma and without treatment, asthma may worsen. So is it possible to remove it from your home easily and effectively? The answer is yes.
Tips & Tricks: End of Tenancy Cleaning: Tips to Ensure You Get Your Deposit Back
What is the best way to remove heavy dust from your home?
Whilst it is best to hire a professional cleaning service to ensure that you have all the remnants of dust removed, you can also look at some quick tips that will assist you in your journey to be dust-free. Here are some of our best tips:
Ventilate to limit dust
It is essential to ventilate the house sufficiently to renew the indoor air. It is advisable to open the windows facing the garden instead of the openings that face the street, especially during rush hour. It is recommended to ventilate only once or twice a day, in periods of 5 to 15 minutes. If
you let air in for too long, your sinuses will suffer. Open your windows preferably in the morning before 10 a.m. or in the evening after 7 p.m.
Avoid dust on the curtains
This easy and practical trick helps prevent dust from easily catching on curtains. Here are the steps in detail:
Soak the curtains in cold salted water a few hours before washing.
Machine washes in the usual way.
This trick effectively removes clinging dust and delays dust build-up as much as possible.
Limit dust with doormats
Dust enters the house through shoes as well. It is, therefore, preferable to have a doormat at the main entrance to remove as much dirt as possible and another inside to eliminate what remains. For the outdoor doormat, it is advisable to use a material with great absorbing power to eliminate as much dust as possible. For the interior, a high pile doormat is recommended.
Tidy up your house to avoid dust
To prevent dust from quickly accumulating in the house, it is necessary to get rid of everything that serves as a sensor. Thus, you must avoid leaving piles of clothes, magazines, or toys on the floor. The ideal is to have a clear interior.
Vacuuming to prevent dust
Use the vacuum cleaner regularly to vacuum your house from head to toe. Including all holes and corners, as those are the areas where dust accumulates. Don't forget, under the sofa and the chair legs. The bedding is also a source of dust in the house. So be thorough with your vacuuming, especially if you have carpets.
Carpet: a dust trap
The carpet is the ideal ground for dust accumulation. It is also a nest for mites. It is therefore essential to vacuum the carpet every day and to use an anti-allergenic microfiber bag. The ideal, however, is to have a vitrified parquet floor instead of a carpet. This significantly reduces the time spent on cleaning and dusting. Tiles and parquet are much easier to maintain and clean.
How do I permanently get rid of dust?
An air purifier is a device intended to filter domestic air. It removes pollution and purifies the air. It is particularly effective in removing dust particles floating inside the house. However, it is not exempt from regular cleaning. Installing a device in each room is ideal for this method to be effective. Cleaning thoroughly and regularly, or having a professional come in every so often too deep clean will keep the mites at bay. Therefore, you can lead a life that doesn't revolve around your allergies. Create a new cleaning routine to always keep on top of dust mites.
Some objects, such as children's stuffed animals or coats, generate more mites than others. Be sure to wash them as often as possible in the washing machine if possible.
Regular mopping is also a way to do away with dust mites. Humidity delays the appearance of dust, which is why we recommend cleaning the floor often. The most effective is to do this if not every day, at least two to three times a week. If you have parquet floors in your home, it is best to use a mop with special products for your floors.
Cleaning floors and carpets are essential to rid them of dust mites, but it is also important to clean other areas, such as air conditioning filters, VMC, hot water tank, and heating ducts. It is also useful to vacuum curtains and mattresses at least once a week.
Can I stop being allergic to dust?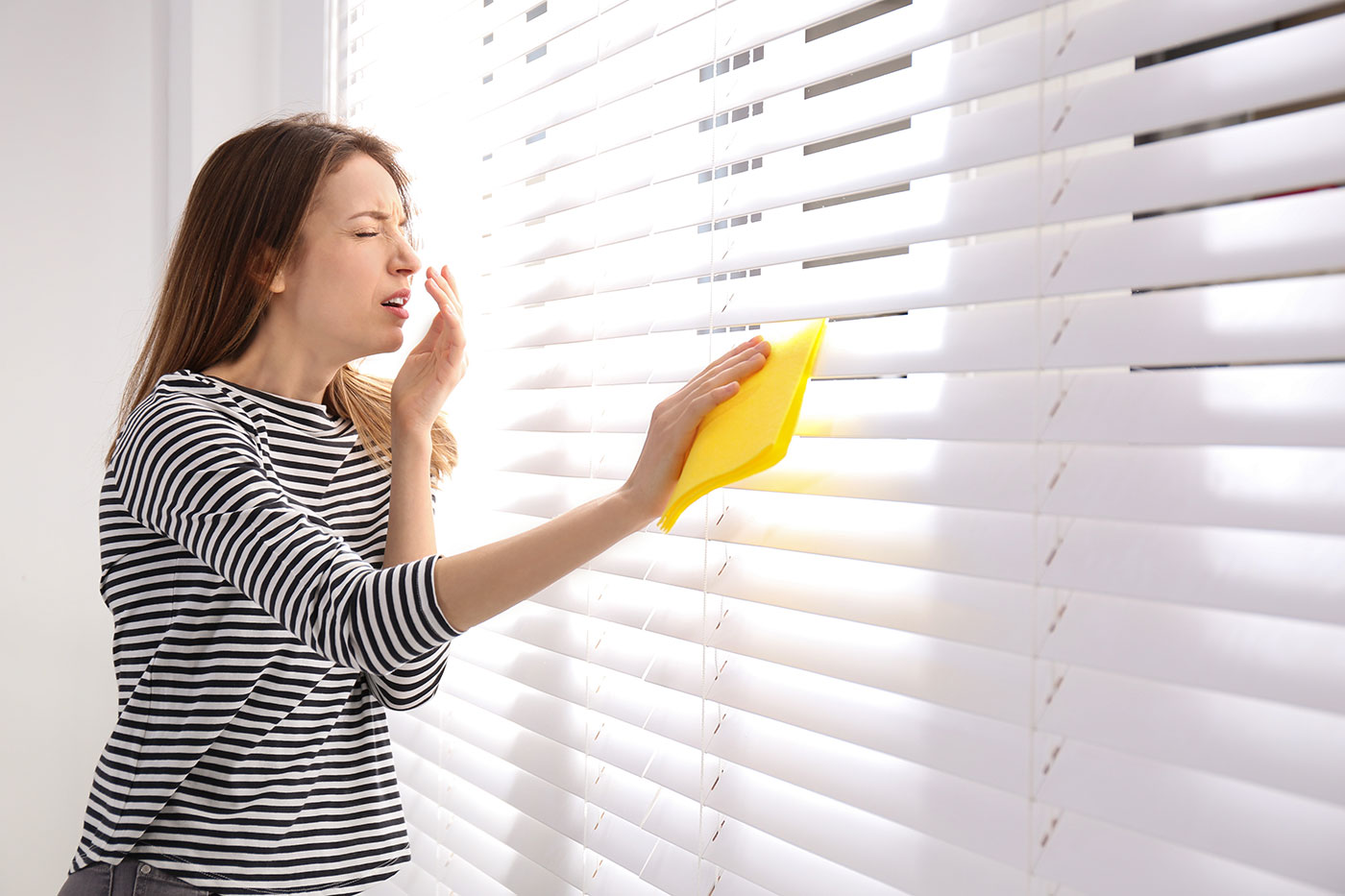 When you minimize your exposure to dust then you will naturally have less of a reaction. However, it is not always possible to remove every single dust mite from the environment, but over time you can develop a level of tolerance. It is known that every seven years our cells rejuvenate. Therefore, some people grow out of allergies and this could be the case for you or any of your family members. If your symptoms have persisted for a long time, then medication can of course keep it at bay.
How do you protect yourself from dust when cleaning?
If you want to protect yourself from dust whilst cleaning, a normal surgical mask will not offer sufficient protection.For protection against chemicals, you need a different type of mask. These masks are divided into categories based on the number of dust particles they trap. This is determined by a number of the highest permitted concentrations of NPK-K substances in the air and the permitted exposure limits for PEL substances in the air. Aside from wearing a mask, you should also ensure your windows are open so that dust can escape naturally. You should also ensure that you use gloves in case your skin is sensitive to dust also.
Use a HEPA filter
What is a HEPA filter? HEPA filters were created in 1950 by the American company Cambridge Filter Corporation, which called them "absolute filters" and were originally intended for the military industry. They quickly became a standard for their effectiveness and moved on to other areas, such as medical, pharmacy, electronics, or the home. The filters are composed of fiberglass screens arranged at random. They work to keep the air clean and filtered and this should be taken into consideration when you are cleaning at home.
Here are some other tips that will assist you.
To prevent mite nests from developing, do not put furniture against the walls. Keep them
3 or 4 centimeters apart. And limit the number of objects likely to become dust nests
(knick-knacks, open shelves, picture frames, etc.)
Keep the ambient humidity level below 50% Open the windows and ventilate for about
20 minutes each day to evacuate the humidity, appreciated by mites.
Use desiccants or air dehumidifiers.
Do not dry laundry in a poorly ventilated room.
In winter, avoid overheating parts and limit the temperature to 17-19 ° C
Try to use natural products as much as possible and avoid toxic substances
Use a cleaning company
If you are looking for a Cleaning Company in Brighton and Hove, then you don't have to look any further. Take a look at  www.high-classcleaning.co.uk  and you will be able to use trusted individuals in your quest for a clean home. Every home needs a clean space and therefore a professional Cleaning Company could greatly assist. Having a deep clean every once in a while at home is going to eliminate all the dirt and dust and keep things spic and span. Then you have to keep up with some light cleaning to ensure that the problems don't quickly return. The best cleaning tips will offer you all the advice that you need to ensure that you stay dust and
allergy-free for the future.